by Giles Paley-Phillips and Jim Daly
Quadrille Publishing, 2021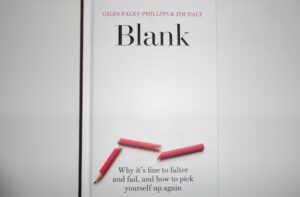 I've heard imposter syndrome being mentioned increasingly frequently lately. Perhaps it's because people are much bolder in sharing their own stories these days. So I was intrigued when I stumbled across this book: Blank; by Giles Paley-Phillips and Jim Daly.
The book collates snippets of advice from across their podcast episodes, grouped under several themes, and all based around the topic of drawing a blank. I was particularly interested in their thoughts on imposter syndrome, but found the other chapters equally interesting. The concept of the blank includes creative blanks, which we would most readily associate with a feeling of drawing a blank, but is expanded into other areas where we may be muddling through life, feel somewhat inadequate, or snowed under with the pressures of modern life: public failure, social media usage, parenting, and situations such as grief, among others.
I actually liked the conversational style, despite myself – it is written as if spoken, alternating between the two authors. Usually, I am not a fan of this style of prose, but it was perfectly apt for this book and added a real sense of chatting with a friend. The authors are frank about their own hang-ups within each topic, which reassures the reader that we are 'all in the same boat'. The interspersed snippets of factual information offer some interesting insights into our social behaviour, but the real gems of the book are the frequent anecdotes gleaned from (mostly British) public figures. These stories stay with you after you finish reading, and make you realise that everyone, even those at the top, are often 'winging it'. Particular stories that I'm going to remember are Caroline Lucas messing up in parliament, and the footballer who blagged his way to playing Premier League games. Each anecdote adds a dash of humour, offers a cringeworthy sense of 'I can imagine myself doing that', and brings you to the realisation that the people at the top struggle in these same areas. The trick is in managing it well.
So you needn't feel like a fake. Just believe in yourself and muddle through – like the rest of us are doing.
---